A WARM WELCOME AT
"ALPINA APPARTEMENTS"
A summer full of childhood memories and vacations like back then…
Have fun in beautiful nature, breathe deeply in relaxing landscapes, experiences as a balm for the soul, unforgettable impressions of immense panoramas, cultivated traditions of a small Austrian mountain village, arrive with friends – be welcome.
If you are looking for a true time-out from stressful everyday life, you will find the ideal conditions for it here with us in Mallnitz. Slowing down, finding yourself and simply switching off is nowhere easier than in the most beautiful nature imaginable in Mallnitz.
Escape from the stressful everyday life and spend your vacation in our family-run, traditional apartment house. Within walking distance in a few minutes are shopping, restaurants as well as bus shuttle, sports shop, indoor pool, and many other recreational opportunities!
We are committed to providing you with a relaxing and restful time and look forward to welcoming you to our house as the perfect base for your vacation.
Mallnitz

The National Park Village Mallnitz is located in the middle of the Hohe Tauern mountains of the Austrian Alps, in the southernmost province of Carinthia. In central village location you will stay in traditional, comfortable apartments in alpine style.
Apartment house
Our ***star house offers you all the amenities you could wish for on vacation. The total of 10 apartments in our house are designed for 2 to 6 people (1-2 bedrooms, 1-3 sanitary areas), all have balconies and are between 32 m² and 75 m² in size.
– All apartments with balcony
– Best equipped kitchens with microwave, coffee maker,
Espresso machine and tableware
– Bed linen, towels and kitchen towels included
– Partly several bathrooms per apartment
– Flat TV via cable,
• WiFi
– Beer pub "Moni" in the house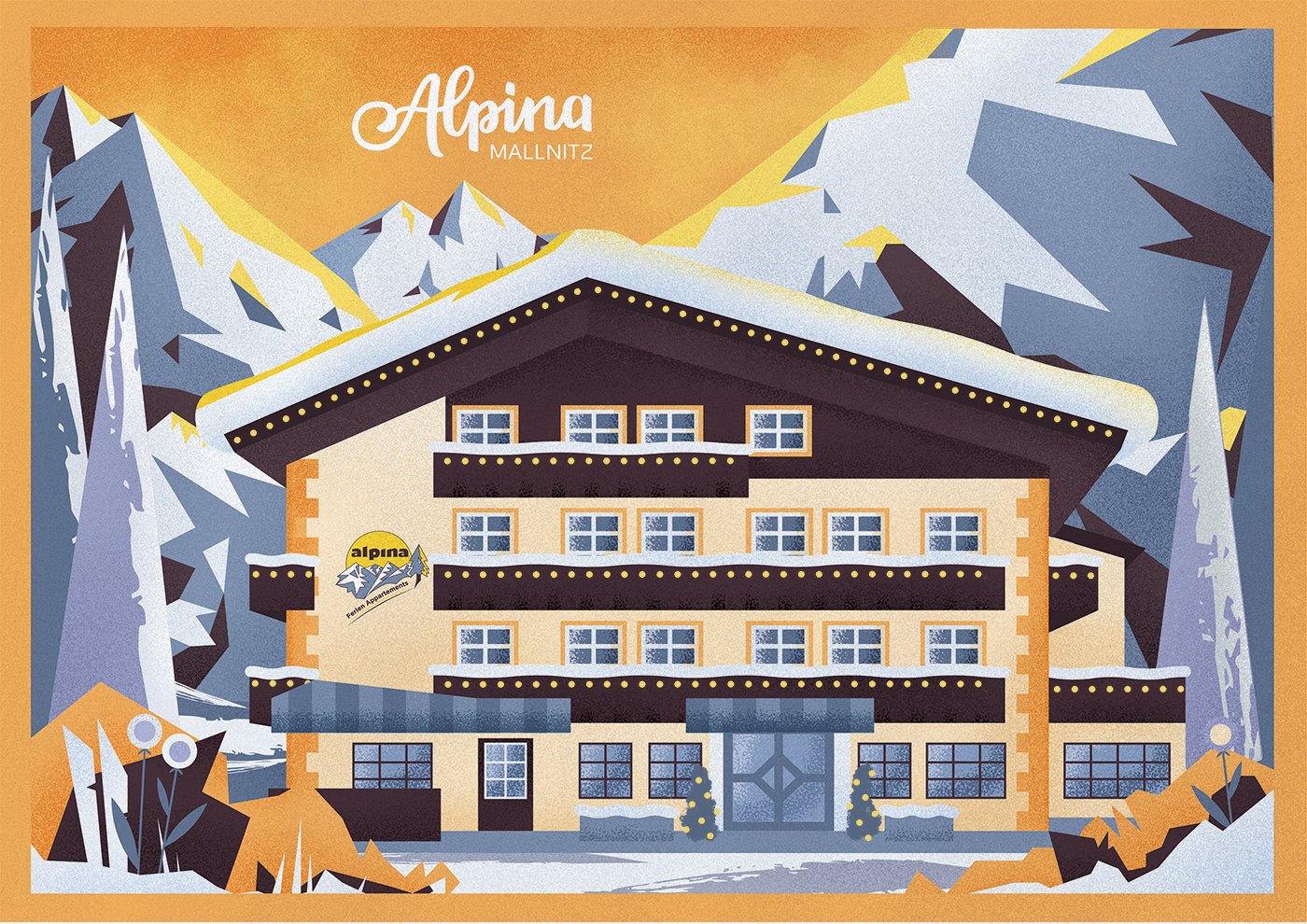 Mountain vacation like back then – pure summer freshness!
The high plateau in the heart of the Hohe Tauern is the perfect starting point for hikes and mountain tours in the National Park region. 150 km of hiking trails are spread over 3 different altitude levels with numerous breathtaking tours.
There is something for every age, for every condition and for every taste.
There are many ways to discover the Hohe Tauern National Park: while hiking and visiting cozy huts, simply while enjoying a walk through the beautiful nature. or sporty: mountain biking, Nordic walking, trekking, climbing…
For this purpose our house offers:
Hiking route start vis-á-vis
Experience the National Park already with the view from your
Bedroom window
Enjoy the Hohe Tauern National Park as a hiking experience in one of the most beautiful landscapes in Austria!
At such altitudes, winter can still be relied upon. A ski and snowboard area for everyone and guaranteed snow from early December to mid-April.
The Ankogel as a border mountain between north and south nibbles at the snow rain from both sides of the Tauern main ridge. Therefore, the powder in winter and the firn in spring lasts particularly long. Gentle and challenging slopes above the tree line allow the enjoyable dance over glittering white.
5 cross-country ski trails (entrance directly vis-á-vis from the Alpina
25

house) in total of 25km of perfectly groomed trails with seal of quality

Cross-country ski trail entrance in the immediate vicinity.
Mallnitz indoor adventure pool included
Snowshoe hiking
Winter hiking
Nordic Walking
Ice skating or curling
Everything in the immediate vicinity and within walking distance!
Ankogel
Carinthia's highest and most snow-sure ski mountains have not only mountains full of snow, but also children's rates up to 18 years: This makes the Ankogel a real ski hit.
Active vacationers will be happy about the skiing area Ankogel – our local mountain reachable in a few minutes. And the ski region "Mölltaler Gletscher" is only 20 minutes away.
Mölltal Glacier – Experience 3000!
Powder guarantee and snow expertise on the Mölltal Glacier! This refreshes and builds up after the long, hot summer: The 3,122 meter high "Mölli", as it is affectionately called by us locals, is Carinthia's only glacier ski area – and one of the most snow-sure in all of Austria.
Booking information:
Our apartments are exclusively non-smoking apartments
On the day of arrival your apartments will be ready for occupancy from
      16:00 o'clock
On the day of departure we kindly ask you to leave the apartments no
      later than 10:00 o'clock.
Minimum stay 3 nights, arrival possible every day, in season C and D –
      7 nights – arrival only Saturday
Check in until 20:00, check out until 10:00
The reservation is considered fixed when the required deposit
      has arrived in our account.
What else you should know:
Please note that in case of early arrival, the apartments can be occupied only from 16.00 and must be vacated by 10.00 on departure. In case of early departure, the apartment price will be charged for the entire booked period of stay.
Minimum stay 7 or 3 nights, depending on the season. Fixed reservation after a deposit of € 150.00 per apartment.
Our bank details:
Raiffeisenbank Lurnfeld-Mölltal
IBAN AT57 3941 2000 0210 4339
BIC RZKTAT2K412